What is PopUp plugin?
When visitor leaves your website, idea is to show more related content and try to retain them on your website. Popup widget can be show on page load or when visitor is leaveing, it is up to you to choose the trigger.
Why this PopUp plugin is different then others?
Aklamator will automatically populate popup widget with you content (from you website RSS feed, your YouTube channel or e.g. your instagram posts. We are not showing any third party content, you have all the control! Also, if you login to Aklamator.com you can add additional custom content to your PopUp Widget (media ads).
Additionally, you can customize PopUp widget to show images, buttons and even custom HTML code e.g. we can automate your newsletter subscription. (you will get 5x more newsletter subscriptions, with GDPR compliant newsletter system!)
(contact us if  you need any help)
Benefits for you
Retain visitors and convert them to useful traffic.
Average CTR better then (8% on PopUp widget)!
Sell advertising space (media releases) to you clients
Manage Widget content on multiple WordPress sites from one Dashboard
Boost newsletter subscriptions (we can provide you custom HTML/newsletter system)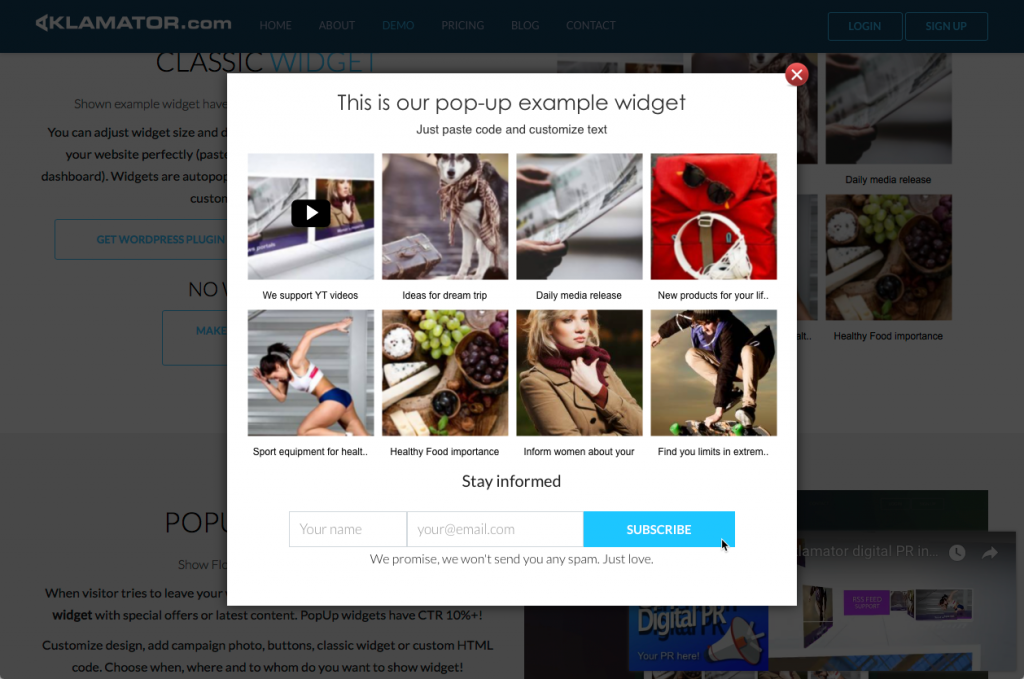 Customize PopUp look in dashboard
You can customize popup widget look:
Title, subtitle
Add photo or video
Add question and answer options, customize button with link
Define popup max width and padding
Or even add classic widget inside popup (which is auto populated from your content)
And choose serving option:
Target device (Desktop, iOS, Windows Phone, Android)
When to show (on page landing or mouse leave – popout)
Traffic source (e.g. show only to visitors from Facebook, AdWords campaign or organic visitors)
Target all visitors, or only new or returning
Choose URL to include/exclude for serving
Choose snooze period (when visitors closes popup it will not bother him in next period)
Register now, and make your Popup plugin!
Even with FREE plan you can serve 100.000 PopUP widgets each month!